15 lessons in 17 days, 54 teaching hours +24h of activities (equivalent to a 3-week course).
10 lessons in 11 days, 36 teaching hours +18h of activities (equivalent to a 2-week course).
Class size: 2-8 students at a similar level
Description
---
Several classes are formed for each course, each consisting of 2-8 students at a similar skill level. The program of study is divided into 6 levels (A1, A2, B1, B2, C1, C2), according to the guidelines of the Common European Framework of Reference for Languages (CEFR). Courses are adapted to the individual needs and interests of each student, and are intended:
For adult students of modern Greek at all levels (absolute beginner through intermediate and advanced).
For adults of any age who wish to begin to study Greek, or who wish to improve their Greek.
For teachers of ancient or modern Greek.
For interpreters, and translators.
Our instructors are young but experienced as teachers of Greek as a foreign language. Grammar and vocabulary are taught via the use of texts and materials written by the Centre. Emphasis is placed on the development of listening and speaking skills. New material (both in grammar and vocabulary) is mastered by students with the use of word games and verbal exercises.
The small class size (2 – 8 individuals) ensures that every student will have the chance to speak and improve their language skills in the course of each hour of instruction. During the weeks of instruction students will also have the opportunity to discover some of the less well-known aspects of contemporary Greek life, through songs, music, conversation, presentations and assignments.
Accommodation and transport
---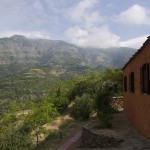 During Easter and November courses, all students are expected to stay on-campus, although it is not at all obligatory. A family atmosphere is created. Several excursions are organized to different interesting spots of the island. There is also a shuttle to Evdilos, in the scheduled days. However, students use the Centre's shuttle to go out and eat or shop with their teachers, almost every day, according to the group's mood.
From 2017 the lessons from May until September are taking place one day on-campus and the next day off-campus, at hotel Atheras, in the coastal village of Evdilos. As our campus and guesthouse are located in an area on the mountain not easily accessible on foot (40 min walk to the beach and 15 min walk to the closed village of Arethousa), this "dual-location" provides our students the possibility to stay in Evdilos, a small village by the sea. It also provides the campus' fans the possibility to stay on-campus and take some of their lessons in their favorite place!
What about transport?
From May to September there are 4 lessons in each 11 day course given on-campus in Arethousa, one every other day. During these days we provide a free shuttle service to our students staying in Evdilos. The Centre's shuttle leaves 30′ prior to the lesson, and returns just after the end of the lesson. Students off-campus will enjoy the landscape and the quietness of the campus, during these short excursions to the Ikarian mountain.
For the remaining 6 days we have lessons in hotel Atheras, in Evdilos. During these days we also provide a shuttle service for the students staying on-campus: The Centre's shuttle leaves at 9:00, 30min before the lesson. The lessons typically end at 12:30. There are also afternoon activities, from 19:30 – 21:00. Between 13:00 – 19:30 students can hang around the restaurants, the cafeterias and  the nearby beaches. After all, it's summer holiday! There are several restaurants and cafeterias and a few nice beaches accessible on foot from Evdilos. The shuttle returns around 22:00 in the evening, after dinner.  For those who are not happy to spend all day long away from their room, we recommend rending a car or a scooter. The cost of a car is approximately 200 – 250€ per 11 day session. There is no public bus service, a bicycle is not an option because of the terrain, and the taxi costs 15€ (one way).
Do you have my level?
---
A homogeneous, small group is the key for the success of a lesson. The classes / levels are formed after students arrival, as we must evaluate at the same time and comparatively all language skills (speaking, listening, reading, and writing), of ALL OF OUR STUDENTS, in order to achieve the formation of highly homogeneous classes. For this reason we are using both, a written placement test as well as an oral interview. Note that as the classes are small, the curriculum is always adjusted to the real needs of each student in the class. In this way we can guarantee that you'll participate in a class that will help you to improve dramatically your skills in Greek language. You have to trust our word. After all, we are on the "business" for 22 years, since summer 1995!
More
---