11-21 or 11-27 Nov. 2017
10 lessons in  11 days, 36 teaching hours + 18h of activities.
Class size: 2-8 students, at a similar level
Location: On-campus, Arethousa, Ikaria, https://goo.gl/maps/Tg2toQvWfCR2
What exactly is this course?
Ιt's an opportunity to begin learning Greek, or to improve your skills in the Greek language while participating in the olive harvest—an experience both enjoyable and educational. You will learn about various steps in the production of olive oil and have a chance to get to know a Greek island in a way entirely different from the usual tourist places and season. This is a time when the island life has returned to its normal rhythm.
For whom is the course intended?
For any adult who wishes to improve his or her skills in the Greek language, including beginners. Friends of yours may also come with you and participate in the experience of the olive harvest and in the rest of our activities, without participating in the Greek classes.
What will we be doing?
After the language lessons we will work together for about 2 hours in the olive harvest, in the nearby fields. We will visit local factories and watch how olive oil is made from the olives.  We will also learn to sing some Greek songs, watch Greek cinema, make excursions around Ikaria, and talk a lot in Greek, both inside and outside the classroom.
Accommodation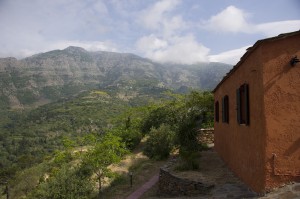 During Easter and November courses, all students are expected to stay on-campus, although it is not at all obligatory. A family atmosphere is created. Several excursions are organized to different interesting spots of the island. There is also a shuttle to Evdilos, in the scheduled days. However, students use the Centre's shuttle to go out and eat or shop with their teachers, almost every day, according to the group's mood.
Do you have my level?
A homogeneous, small group is the key for the success of a lesson. The classes / levels are formed after students arrival, as we must evaluate at the same time and comparatively all language skills (speaking, listening, reading, and writing), of ALL OF OUR STUDENTS, in order to achieve the formation of highly homogeneous classes. For this reason we are using both, a written placement test as well as an oral interview. Note that as the classes are small, the curriculum is always adjusted to the real needs of each student in the class. In this way we can guarantee that you'll participate in a class that will help you to improve dramatically your skills in Greek language. You have to trust our word. After all, we are on the "business" for 22 years, since summer 1995!
Registration & more…
---