Upcoming courses & activities
Αn attempt to capture the problems of Greek-Turkish relations through the pages of a book.
Read More
Since 1995 we have offered Greek language courses in Greece, on the Greek island of Ikaria, for students of all language levels. Many interpreters and translators, diplomats, classicists, university students and teachers have participated in our Greek language courses during all these years. However, the atmosphere in the lessons is very friendly.Students learn through a multitude of language games and activities. Tuition fee from 890€, including accommodation
During winter 2022 - 2023 learn Greek online in our online Greek language courses. The lessons are aimed at students of all levels and they are based on conversation classes via video conference.
April - Oct 2023
Some useful answers to frequently asked questions regarding our Greek language courses on the island of Ikaria[:]
Solo travel Ikaria in spring, reserve accommodation at Ikarian Center and join our walking tours and Greek dance lessons. A fellow traveler is also welcome!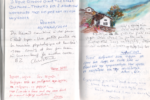 The best way to evaluate our courses is to listen to our students
An innovative Greek language course for kids & families that combines lessons and activities, transforming the lesson into an interesting
Take a solo travel to Ikaria in autumn, pick olives with us, learn how the oil is produced and take your own olive oil with you
Start or improve your skills in Greek language in an intensive Greek course in Easter, on the island of Ikaria, Greece. At the same time discover the traditions of the Greek Easter through activities specially organized for this course and enjoy the explosion of colors and smells of the Ikarian spring.