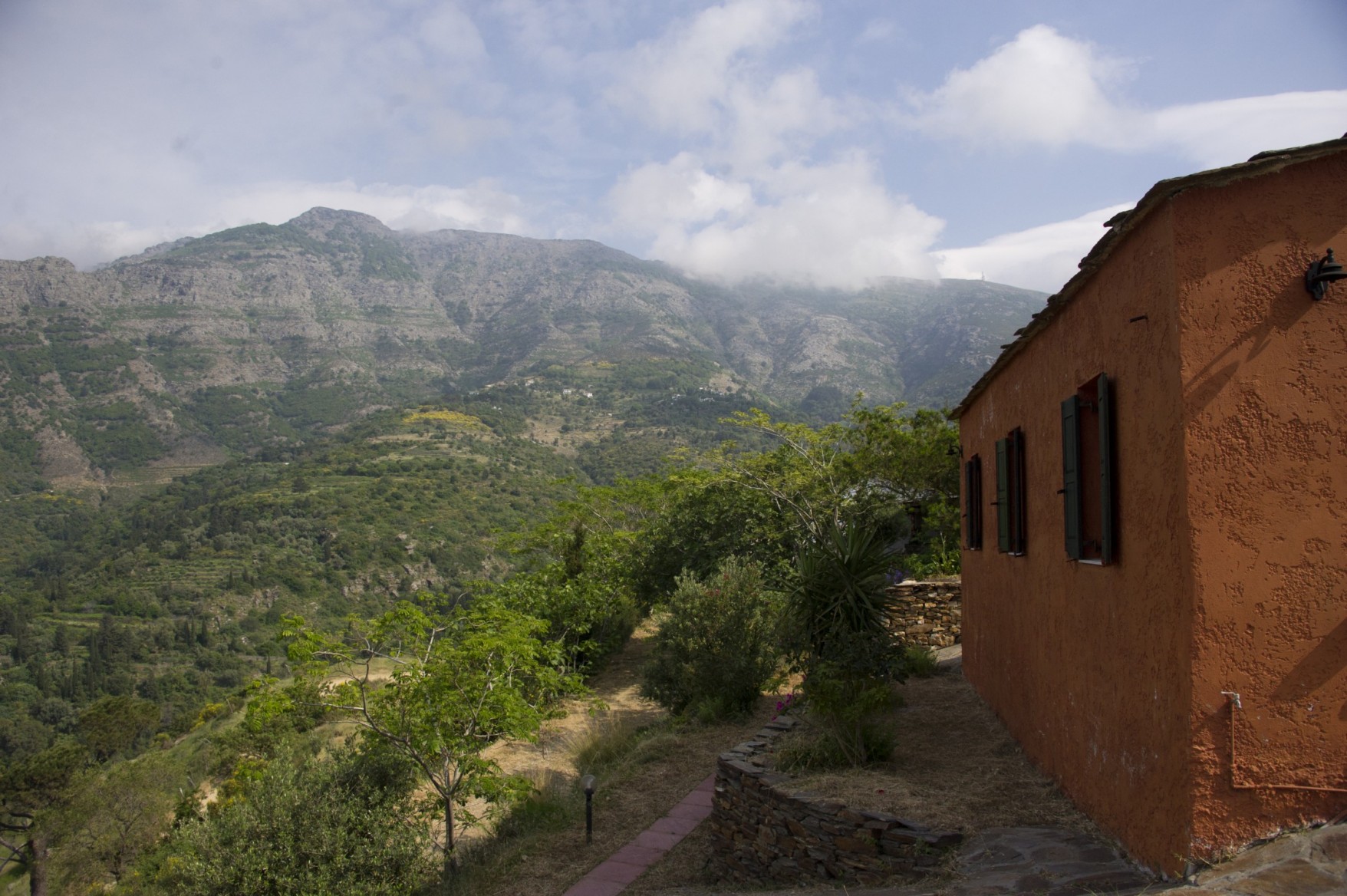 The Greek courses are given at Ikarian Centre's headquarters, on a wooded area, 1,5 Km outside the mountainous settlement of Arethousa and 3Km away the coastal village of Karavostamo.Students participating in our Greek language courses are welcome to stay in a private room, alone or with a person who travels with them but do not participate in the lessons.  The rooms are all located adjacent to the campus' course venues. Each of them includes private bathroom and kitchenette. The Centre's mini bus, with a driver, are available after the end of the lessons for short excursions to the island, to visit nearby beaches or to go to Evdilos, the port and central village of North Ikaria, 8Km away.
Students, teachers and coordinators live at the campus together, in private rooms. On-campus accommodation is perfect for those who wish for an experience off the beaten path. Here you can enjoy a course combined with a healthy dose of nature and community, not to mention the opportunity to become better acquainted with the local Ikarian culture (which may make have you believing you just stepped out of a time machine). Although students will have their own private space, the larger areas on campus – the patio, classrooms, and common kitchen – provide a place for teachers and students to come together for learning, for discussions, for meals, and for enjoyment. The scheduled afternoon/evening activities, like traditional dance lessons, learning to sing Greek songs, film screenings and slide shows, create a learning environment outside the classroom that makes the students' stay more productive, interesting and fun. Additionally, spontaneous activities such as hiking, going out to authentic local tavernas, 'cooking evenings' or film screenings, occur during our free time, according to the mood of the group.
Off-campus accommodation
On-campus accommodation is optional. Students who want to stay close to a beach or the port of Evdilos, and enjoy the comforts of a hotel with a swimming pool or an airbnb apartment, can do so. Note that  if you don't stay in one of Arethusa's airbnb, you'll have to rent a vehicle to come to the classes. The village of Arethousa is the only settlement easily accessible from the Center (15 minutes walk).
We suggest hotels Atheras & Kerame. Both hotels belong to the same company. Atheras is located in the heart of Evdilos, very convenient if you want to be 5 min away from the cafeterias, tavernas and shops of the village. Kerame is an apartment hotel (there are cooking facilities in every room or apartment of the hotel) but it is a bit more isolated. There is a restaurant in the hotel, however, there is nothing around, apart the beach, a small grocery store and houses. You must walk 15-20 min (1,5 Km) until the center of Evdilos, if you want to find a bar, a taverna or a kafenio. In the area there are several airbnb apartments and some small pensions. It might also be possible to stay with a family. For more information, please contact us