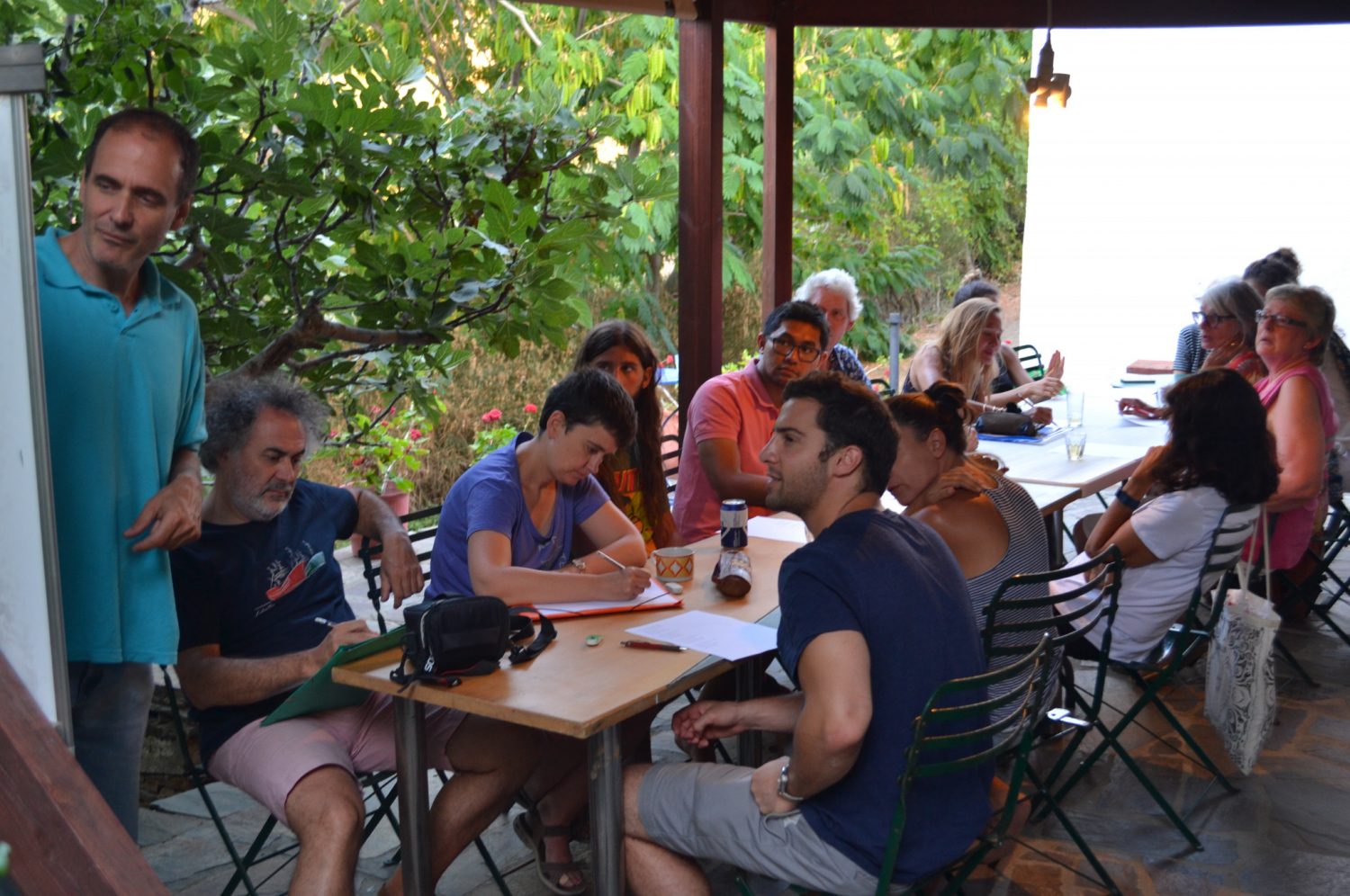 Efficient Greek language courses in Greece, island Ikaria
Since 1995 we have offered Greek language courses in Greece, on the Greek island of Ikaria, for students of all language levels. Many interpreters and translators, diplomats, classicists, university students and teachers have participated in our Greek language courses during all these years. However, the atmosphere in the lessons is very friendly.Students learn through a multitude of language games and activities. Tuition fee from 890€, including accommodation
We offer Greek language courses in Greece, on the Greek island of Ikaria, for those you would like to learn Greek in Greece, in an immersive Greek language program and for this reason are looking for:
Small class size: Our classes are even smaller, from 1 to maximum 4 students per class. Therefore, our classes are also very homogeneous. Homogeneous and very small classes make the lessons more intensive and efficient.
Flexible duration: Students may register for 2 or more weeks in a row.
Efficiency: Small and homogeneous classes are helping us to adjust the curriculum according to the students' needs, and not the opposite. Students have more time to talk and practice in the class. Also, 2 hours tuition per day gives to the students the necessary time to do their homework and rest.
Greek language courses in Greece
Each course lasts for 2 hours (120 min)/day.(Note that language schools in Europe calculate the duration of their courses in teaching hours. One teaching hour is equal to 45 minutes. Thus, a four hours lesson is usually lasting 180min).
All our summer classes are taking place in open air classrooms, with a fantastic view to the sea and the mountains
Out-of-classroom activities (traditional dance lessons, Greek songs, conversation classes, lectures and slide shows, cooking local dishes with people of the village, etc.) and events that happen spontaneously (like going out and eating together) are what make our lessons a truly immersive Greek language program.
Our instructors are experienced teachers of Greek as a foreign language. Grammar and vocabulary are taught through the use of games, texts and other materials written and provided by the Centre. All skills are practiced in our lessons (writing, reading, speaking and listening), however we do focus in oral speech. The small class size (1-4 students / class) ensures that every student will have enough time to speak in the class. Our program focuses on learning the language and NOT on the tourist experience. In every lesson students will be assigned homework for the next day. As most of the locals do not speak only Greek, and since the teachers continue speaking Greek outside of the classroom, students must be prepared to hear and speak a lot of Greek, even if they are beginners.
Location & accommodation
The Center's campus includes accommodation area for our students as well as teaching facilities. Ikarian Centre is located in a quiet mountain location not far from the sea. Accommodation at the Centre is optional. Students can take a private room at the Centre's guesthouse next to the classrooms or share their room with another student. All rooms are double occupancy. A student is welcome to host in his / her private room a person who travels with him / her, without participating in the lessons. All rooms are equipped with private bathroom and kitchenette and can host up to two persons. We provide a shuttle service that brings students to nearby beaches and coastal villages after lesson's hours. However, accommodation at the Centre's guesthouse is not mandatory. You can stay at an airbnb of the nearby village of Arethusa. From Arethusa you must walk 20 minutes to reach the Center. If you book a room somewhere else you will have to rent a means of transportation to attend classes. More about the guesthouse and accommodation options
More Greek language courses by Ikarian Centre
Arrival – departure
The first lesson starts on Monday afternoon, the last lesson ends on Friday 13:30. Try to check in on Sunday, one day before the class starts and check out on Saturday, the day after the last lesson. Arrival and departure dates (check-in and check-out) are flexible, + -2 days before or after the start of the course.
Daily schedule
On Monday, classes start in the afternoon. On the rest of the days of the week (Tuesday-Friday) the lessons take place in the morning, for two hours in the zone between 8:30 – 15:00. Students have enough time to participate in the lesson, study and do their homework. From 15:00 – 18:00 students can go to the beach, for food or shopping. From 15:00 to 18:00, the Centre's mini bus facilitates those who do not have their own vehicle to go to the nearby beaches and villages. In the evening, students participate in various activities (traditional dance lessons, slide shows, conversation lessons, cooking evenings, etc.). After the activities, the students often go out with their teachers to eat or drink in the nearby taverns. On Saturdays, in the middle of each lesson, we organize an excursion to the island. We don't offer activities or lessons on Sundays.
Student reviews