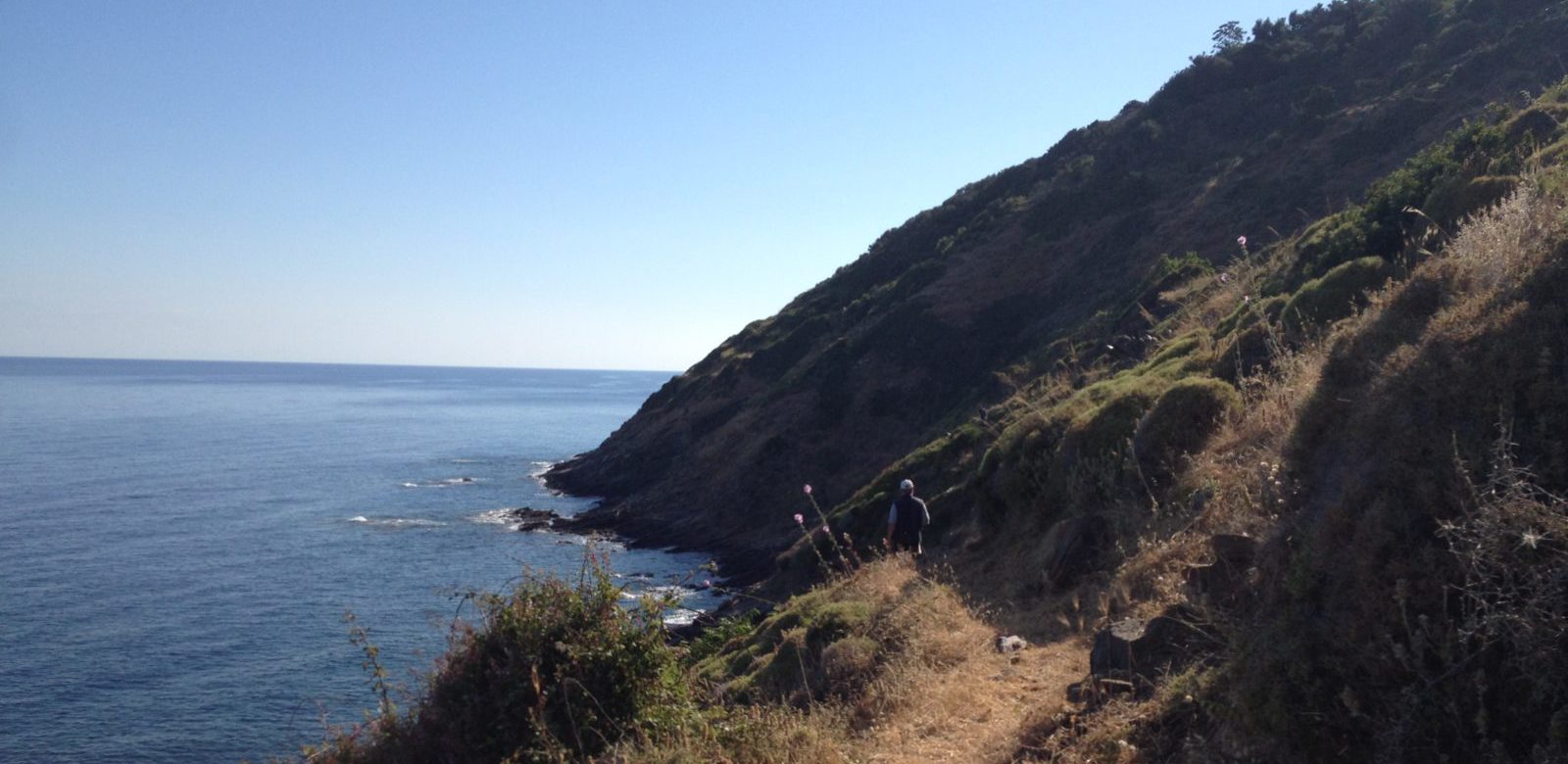 Duration 20′
Distance: 0.5 miles
Minimum Elevation: -1 feet
Maximum Elevation: 77 feet
Total climb: 36 feet
Total descent: 114 feet
Be sure not to be afraid of heights, since the pathway is quite narrow. In some parts you will have the steep cliff on your left side with the sea right below and the steep mountain slope on your right.
BE CAREFUL TO STAY CLEAR OF THE CLIFF RIDGE AND NEVER TRESPASS THE WHITE SAFETY LINE!
This is our "Don't cross the line" route – if you want to find out what happens if you do, rather listen to Johnny Cash's song than finding out yourself! In some parts you will have overhanging parts with hollow sections underneath. So just don't do it. Also, never try to walk down to the sea until you finally reach the beach of Aris Potamos.
Start from Taverna "To Steki tou Tsiniaou" which you will find to your far right looking down to the sea from the main square.
Take the alley to the right from here and walk down until the second street branching off to the left.
Go left, and at the next junction turn right to follow the blue arrow.
From now on, whenever you come to a junction in the village, always take the upper right path, otherwise you will end up in people's houses.
After having passed the last house of the village you will see the footpath that will lead you all along the coastline.
Caution: Approx. 200 metres after the last house you will come to a kind of creek sloping down from your right. This is debris from the excavations made to build Karavostamo's school, which then was used by the school children for sliding down the hill to the sea. Nowadays, this is the most dangerous part of the pathway since there are hollow sections underneath the path. You will find the first white lines clearly marking the pathways' borderline towards the cliff. Be careful to stay on the right side of the pathway, and do not cross the white line.
Continue on your safe path and enjoy the rich vegetation and the wonderful views of the sea.
On your way you will find fig trees, blackberries, myrtle berries, fennels, edible wild artichokes and thistles, uncultivated vine, lupines and all sorts of endemic species.
During the war, people here collected lupines which served as food for the starving population. Lupines have to be soaked for a week so that they will lose their bitter taste, after which you can prepare and eat them like beans. Also, they can be ground and used as flour.
Enjoy your stay in Aris Potamos!