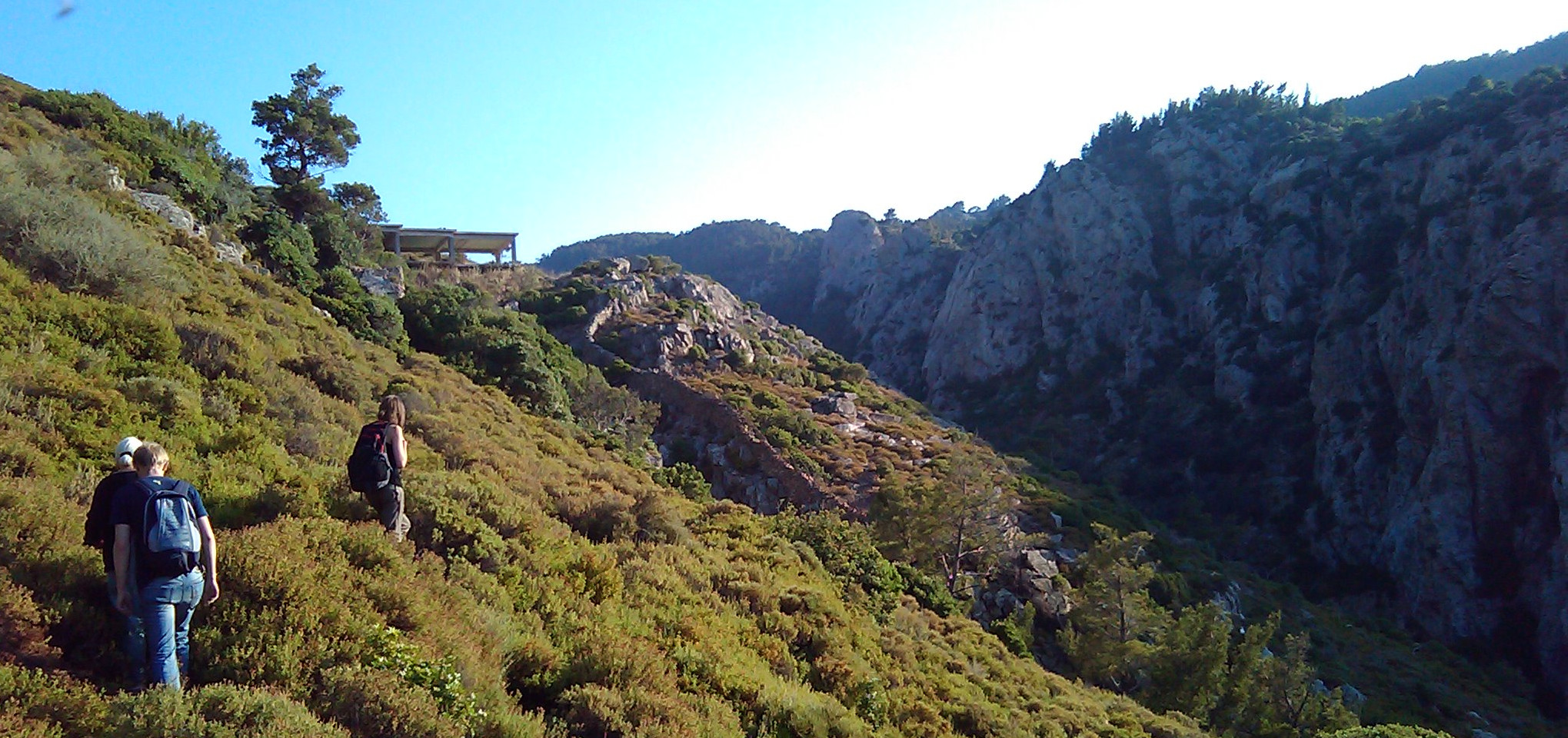 Put on the ecotourism radar by recent media coverage and its classification as a blue zone, Ikaria has seen a sudden surge in visitors. Every year, more and more campers and hikers from all over the world are attracted to the island by its rugged and uncharted terrain. However, with so many visitors leaving behind new paths and clearings, the tourist footprint is beginning to take its toll on Ikaria's delicate ecosystem.
Far from trying to stop visitors from seeing the island's magnificent natural beauty, Project Pathways is an initiative to promote sustainable tourism. However, we can't do it alone! With a task force of volunteers, the Ikarian Centre aims to reopen and remark the island's overgrown pathways. Clear, well-marked pathways will allow walkers and more adventurous hikers to have maximum access with minimal environmental impact.
The project will start in Arethousa, a village of historical and cultural importance. In the face of the Greek financial crisis, building sustainable hiking paths will help the local community to develop eco-tourism. We also hope to empower the local community, proving that a healthy environment and local traditions are valuable for sustainable development.
Summary:
During 12 days in June, volunteers will work on a 3-km path leading to a beach that is currently only accessible by sea.
When: 4-16 June 2016
Where: Arethousa, Ikaria
Accommodation: Shared accommodation provided at the Ikarian center
Answers to some frequently asked questions can be found below.
To register, click here.
To ask any questions, contact Sarah by filling in this form:
[si-contact-form form='15']
F.A.Q
The best way to get to Ikaria is by plane from Athens or Thessaloniki. You can also take the ferry from Athens, Samos or Thessaloniki to the port of  Evdilos or Agios Kirikos.
How much is the accommodation?
The Ikarian Center will provide you with free, shared accommodation. You will share with no more than 2 other people. There are also cooking   facilities and wifi as well as a shuttle service to the main city, Evdilos, and nearby beaches.
Do I need to speak Greek?
This is not essential but optional conversation classes will be available. Check out our language courses here.
Do I need to be physically fit?
A certain level of fitness is required. We are aiming for between 3 to 5 hours of volunteering per day.
What's the weather like in June?
June is a lovely month on the island, the temperature varies from around 22-28C   (around 75F) and it rarely rains.
Will I have time to visit other parts of the island?
Of course! During the project, activities and excursions will be available to make sure you make the most of your time on the island. Just remember, don't stray from the path!
This action is closed. Following, you can see some pictures and videos.
---